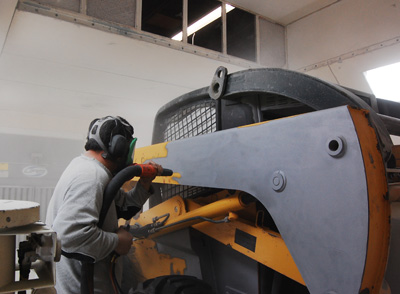 At Ontario Blasting Specialties Ltd., we are a mobile and a shop blasting company providing soda blasting, sandblasting, media blasting to the Toronto area, Southern Ontario, and beyond.
We are a media blasting company; a soda blasting company It's quite easy to blast heavy steel. Anyone can do it. Our specialty is cleaning or removing coatings from surfaces that require a gentle touch. We started baking soda blasting in 2001,and have added other soft abrasives, and have honed our skills media blasting a vast array of delicate surfaces and items. We chose our media for each project based on it suitability to the surface being blasted, it's speed of removal, cost, and other criteria. We maintain a huge stock of our various media.
We are a "new age" sandblasting company Unlike "old school" sandblasters, we do NOT use potentially hazardous silica sand. Our replacement media is SO GOOD it is approved by the US NAVY for "sandblasting" use in shipyards. Hard, durable, and angular it's more than up to the task of stripping rust and scale from heavy steel. And unlike sandblasting pots we can dial our pressure way down if the situation suggest it!
Regarded as one of Ontario's premier specialized media blasting companies ( and longest continuous ownership in the GTA ) we have the capacity to perform everything from small on-site or shop blasting projects, to large plant coating removal / cleaning projects or highway line removal contracts. We have the resources to handle your projects - from a professional blast booth, multiple blast pots, huge inventory of different blast media, and large compressors to the skill, certificates and financial resources to pull it all together.
If your project requires sandblasting or other media blasting, cleaning or coating removal, we are your right source. If you need concrete cleanup, fire restoration blasting, graffiti removal, highway line paint removal or other pavement marking removal,exterior building cleaning, auto paint removal for car or truck restoration, swimming pool soda blasting, marine antifouling paint removal, industrial cleaning including interior building cleaning or paint removal, log or wood home finish removal, brick surfaces cleaned or paint removed, or almost anything else blast cleaned or a coating removed, call us. We are your best choice!

We use blasting media taylored to your project, such as Armex® and Natrium® brand baking soda, calcium carbonate, corn cob, walnut shell, recycled crushed glass, and others, including our own blends. We use different grit sizes of these blast media as well, which allows us to fine tune our service to your application even further. And our equipment is much more adjustable than your typical blast pot – we can blast anywhere from around 20 psi to 120 psi, giving us that extra ability to maintain control over the amount of aggression used. And, all of our products have the added bonus of being environmentally sensible.
We service Southern and Central Ontario, serving Toronto, Hamilton, Burlington, Kitchener, Waterloo, London, Oakville, Mississauga, Brampton, Barrie, Georgetown, Acton, Guelph, Woodbridge, Richmond Hill, Ajax, Oshawa, Pickering and many other areas. We are available throughout Ontario and beyond, depending on the project. Please inquire about your particular project.
Armex is a registered trademark of the Church & Dwight Co. Inc.