We provide baking soda blasting services to the disaster restoration industry - fire restoration contractors, as well as the home owner who has "cash out" and hired his own contractor. Due to its low relative hardness of 2.5 and its exceptional odor neutralizing properties, baking soda blasting is a natural choice for restoration professionals, and for fire and mold restoration in general.


Soda blasting removes smoke and soot damage from brick, concrete block, concrete, interlocking stone, wood studs, joist, truss, sheathing materials.

Soda blasting not only removes the visual damage during the blasting process, but the natural deodorizing properties of baking soda work to eliminate the "smell" associated with the damage. Fire, smoke and the accompanying ash are typically at the high end of the pH scale (strong bases), where baking soda works quickly in absorbing odor. The longer that the air in the affected area is in contact with the baking soda, the more neutralizing takes place.

The soda residue is not "secondary residue" as the dry ice fellows like to call it.The soda residue is part of the process, as baking soda left to sit for a day or so after the blasting will continue to draw odour and moisture out of the surroundings! No other process does that!

Baking soda blasting in a fire restoration application, will typically be faster, more economical, and a better clean than if the same job was performed by a dry ice blasting company! Reports are that many leading American mold and fire restoration firms have shelved their dry ice equipment and have returned to soda blasting.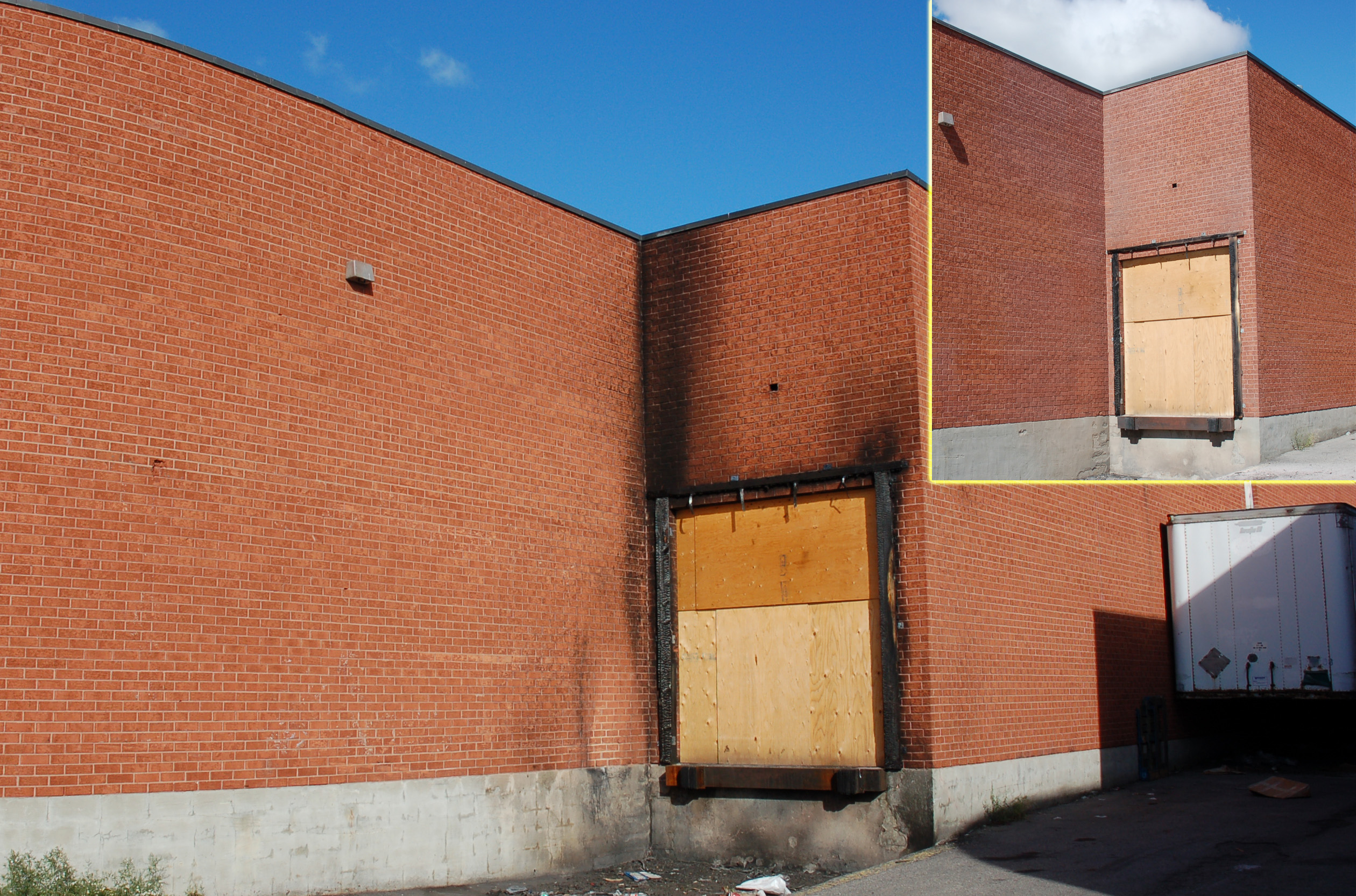 Soda Blasting is the best way to remove smoke and fire residue from exterior brick. This is not the place to take a chance with other methods of removal.

This Credit River Stone had been exposed to decades of environmental impact, and now a car fire. In the left photo, you can see the difference with the soda blasting done to just above the door. This area of stone looked so good, the general contractor brought us back to soda blast clean the rest of the stone and concrete areas.
.

| | |
| --- | --- |
| | Typical of commercial and industrial fires, is this burned and smoke damaged tin pan ceiling and support beams. They clean up great – ready for a fresh coat of paint! |

services Southern and Central Ontario, serving Toronto ( GTA ), Hamilton, Burlington, Kitchener, Waterloo, London, Oakville, Mississauga, Brampton, Barrie, Georgetown, Acton, Guelph, Woodbridge, Richmond Hill, Ajax, Oshawa, Milton and other neighboring areas. We are available throughout Ontario and beyond, depending on the project. Please inquire about your particular project.