Highway Line Removal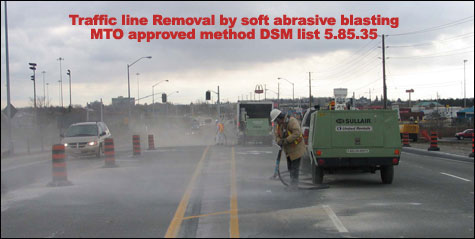 The Soda Pro performs highway line marking removal and other pavement marking removal by the soda blasting method, utilizing blast medias that are approved by the MTO. New construction involving traffic re-alignment usually leaves temporary and "no longer required" traffic markings to be removed. Unless properly removed, motorist can easily be confused between the current traffic configuration and previous markings. This confusion is most likely to occur while travelling on wet roadways or driving towards the setting sun. This can result in traffic accidents causing serious injury, or even worse, a fatality.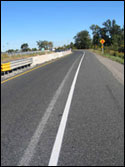 Soft abrasive blasting gives minimum impact to the asphalt surface, gradually fading back into the surrounding asphalt.

Our method does not dish or gouge the roadway, and does not remove large aggregates and fines, both reducing surface coat maintenance.

We are a member of The Road Authority and use MTO approved equipment, methods and blast media.





We can handle any size abrasive blasting pavement marking removal project

generally running up to three removal crews. We carry at least one spare machine for emergency situations. We run the large compressors and large plumbing blast pots, and set the pace in removal rates in Ontario. We are set up for both paint and thermoplastic removals. So whether you have an intersection improvement or several kilometers of highway line, we can handle it!




Thermoplastic marking removal requires the right equipment to effectively and permanently obliterate the markings. We follow MTO standards for these removals




We got called in on this MTO project on Hwy 417 between Ottawa and Montreal. The company performing the line removal ran out of blast media and the general contractor was facing huge fines if the job wasn't finished by the completion date. We were on site within 2 days with a 53' trailer load of blast media and completed the last 7 kms of removals.

We buy our blast media by the tractor trailer load and maintain a large in house inventory so that when you need us, we're ready.






Permanent & temporary line removal - part of a 2012 MTO 16km removal project on Hwy 93 into Midland




services Southern and Central Ontario, serving Toronto ( GTA ), Hamilton, Burlington, Kitchener, Waterloo, London, Oakville, Mississauga, Brampton, Barrie, Georgetown, Acton, Guelph, Woodbridge, Richmond Hill, Ajax, Oshawa, Milton and other neighboring areas. We are available throughout Ontario and beyond, depending on the project. Please inquire about your particular project.





©2006-2016. The Soda Pro