Mold Removal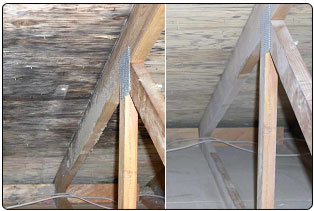 While we do not perform any soda blasting services for mold removal, mold removal by baking soda blasting has turned out to be a natural extension of the use of baking soda blasting in the fire restoration industry.

The soft, angular nature of baking soda allows for quick removal of the mold, while providing minimum impact on the wood surfaces.

If you have mold in your home or business,you need a certified mold remediation contractor, who will establish and follow the proper protocols for mold remediation. This is not an area where soda blasting should be considered the only step required, and should be left to professionals remediation contractors.

The soda blasting ( as does any other method of blasting, including dry ice ), just removes the mold growth and mold spores from the surfaces. The proper procedures can include containment, soda blasting, HEPA vacuuming, damp wiping ( with appropriate chemicals ), then HEPA vacuum and damp wiping again until a final suitable result is reached, as determined by air quality testing.

While dry ice blasting leaves less residue, the process is the same. You may save a couple of hours of vacuuming, but we feel that is far outweighed by use of baking soda blasting, with increased safety to the blast operator, as well as the odor (and moisture)absorption of the baking soda.